Recessed Lights on Vaulted Ceilings
Vaulted ceilings add drama and elegance to any room. What's the best way to illuminate them? Recessed lighting is one option, but you must use the right type of lights and take extra precautions with the wiring. SESCOS is running a special on recessed lighting installation, so this is the perfect time to think about your lighting.
Installation and Wiring of Recessed Lights
Installation and wiring on a vaulted ceiling are not markedly different from the installation of recessed lights on a flat ceiling. Keep the following pointers in mind:
Use a long power drill bit to create the access holes.
Add 18 extra inches of cable wiring to make installation easier.
Run the cable wire to a switch box before running it through the access hole.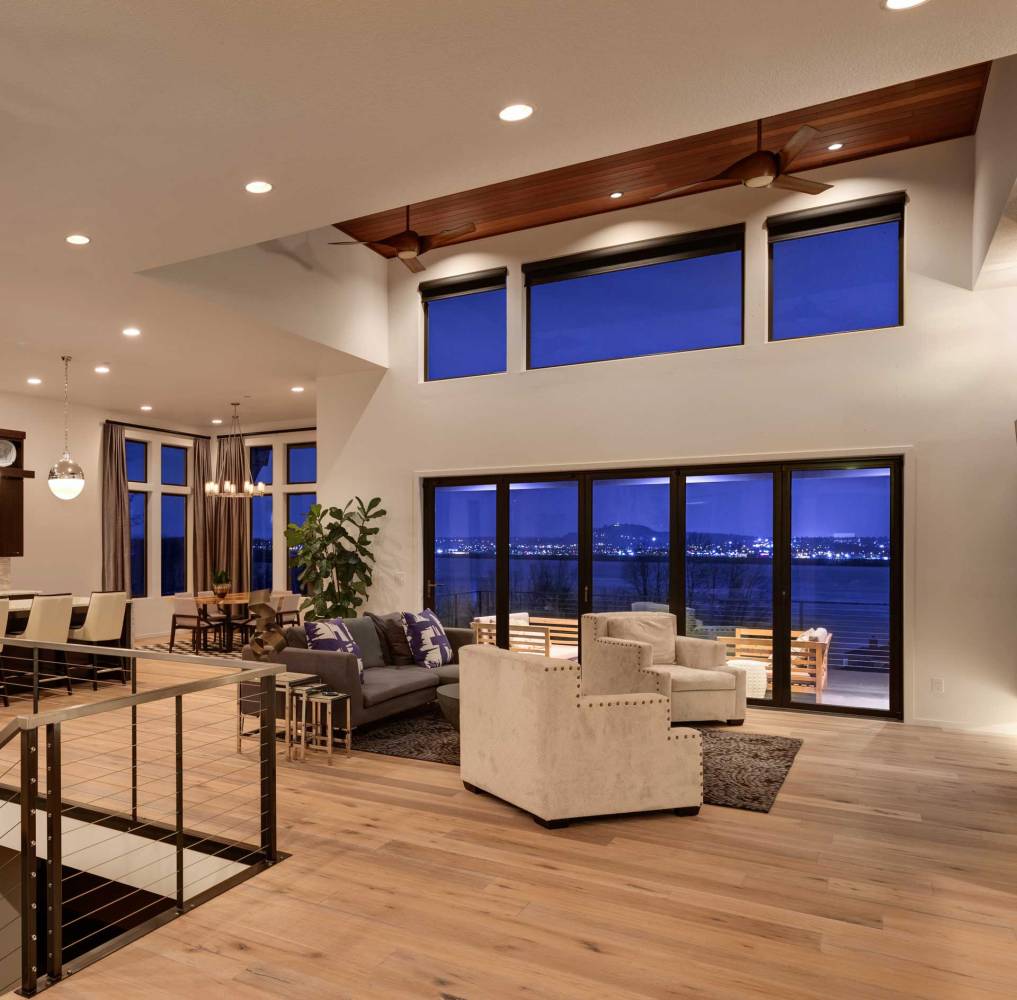 Use the Right Cans
The most important part of installing these lights is using the right type of can.
Sloped ceilings: You'll need recessed lights that are specifically designed for sloped ceilings. They'll slide into place easily and make sure the light beam shines in the right direction.
IC rated: Use a recessed can that is rated IC for "insulation contact." These cans can stay in close contact with the insulation without causing heat problems. If you don't use an IC-rated can, you must install the cans three inches from the insulation.
Airtight: To install a recessed can safely on a vaulted ceiling, use an airtight can that won't allow condensation to form. Moisture trapped on your ceiling can lead to roof rot, leaks, and worse. An airtight can will protect your roof from moisture.
Problems You Might Encounter
Vaulted ceilings make for tricky installation. Installation of any lights on a vaulted ceiling is difficult, and recessed lights require specific skills. Installation on a vaulted ceiling will take longer than installation on a flat ceiling.
Recessed lights can interfere with your insulation. Recessed lights hold heat inside their cans. This heat causes moisture to build up between the ceiling and the roof. This can defeat the work of your insulation and disrupt your insulation's ability to regulate your home's temperature. Using an IC-rated can will help you avoid these problems.
You may develop moisture problems. Constant humidity on the ceiling can damage your insulation and lead to mold and water stains. The water can freeze in the winter and thaw in the summer. The constant freezing and thawing can cause roof leaks. Installation of the airtight cans will help prevent roof leaks.
Dress Up Your Recessed Lights
Recessed lights can add illumination, but accent lighting can make your vaulted ceiling come alive. Consider adding these lights to create a layered lighting effect.
Hanging lights: Chandeliers and pendant lights make a striking display on a vaulted ceiling.
Track lighting: Track lighting is a versatile lighting choice. You can attach the tracks to the slopes of the wall or hang the track under the ceiling.
Cable lights: These lights add the look of starlight to your vaulted ceiling.
Get Expert Installation of Your Recessed Lights
If you want to add recessed lighting anywhere in your home, talk to SESCOS about fast, expert installation. SESCOS can provide expert guidance on the wiring along with our award-winning service and installation. Get help with all your lighting and all your electrical needs by calling SESCOS today.